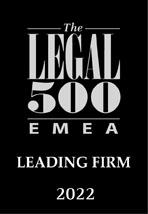 TURUNÇ was ranked once again by The Legal 500 in the guide's EMEA 2022 edition, which researches law firms by country and practice area in the EMEA region.
In a testament to its diverse practice areas, the Firm was ranked in seven areas: Banking, Finance and Capital Markets; Commercial, Corporate and M&A; Competition; Dispute Resolution; Intellectual Property; and IT and Telecoms.
Below are some excerpts from the publication's editorial and client testimonials:
Transparency, trustworthiness, proactive approach, commercial awareness and international know-how put TURUNÇ above other firms.
"Noyan Turunç: The only lawyer to call for tough decisions. Delivers legal and commercial advice at once. His previous role as general counsel of Coca-Cola is incredibly helpful in harmonizing legal and commercial advice."
"Noyan Turunç is a great strategist. We often talk to him about how to structure our potential investment and M&A projects. He always surprises us with an out-of-the-box idea that's also realistic. Incredible business acumen like no other lawyer in Turkey."
They are able to understand the issues from the core, combine a commercial approach with a depth of expertise and come up with innovative solutions.
"Kerem Turunç is in a league of his own for capital markets work."
"Kerem Turunç may be the best M&A negotiator I've worked with. He always knows the draft agreement from cover to cover and his memory is so strong that he normally doesn't even need to look at the document to negotiate. He is a thought leader in the M&A world on an international scale thanks to his American background."
"Kerem Turunç: The best capital markets lawyer I've met in Turkey."
TURUNÇ's team stands out for its commercial awareness and international know-how.
"İltem Dokurlar: excellent relations with regulators, speaks their language."
"Esin Çamlıbel is […] detail-oriented, always asks the right questions and is efficient in her advice."
"Ilgın Eroğlu Alyanak is always up to speed on market standards and practices. She is meticulous in her drafting and issue-spotting."
"Gizem Günel is excellent at providing easy-to-implement advice. She's very diligent while being super responsive and a great communicator."
"Beste Yıldızili is a pleasure to work with."
World class service at all levels.