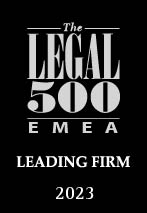 TURUNÇ was ranked once again by The Legal 500 in the guide's EMEA 2023 edition, which researches law firms by country and practice area in the EMEA region.
In a testament to its diverse practice areas, the Firm was ranked in seven areas: Banking, Finance and Capital Markets; Commercial, Corporate and M&A; Competition; Dispute Resolution; Intellectual Property; and IT and Telecoms.
Below are some excerpts from the publication's editorial and client testimonials:
Led by a highly qualified, business-minded, academically superb and internationally experienced senior team. Simply a cut above any regular local practice.
"Noyan Turunç is a great strategist … He always surprises us with an out-of-the-box idea that's also realistic. Incredible business acumen like no other lawyer in Turkey."
"Noyan Turunç: His ability to see not just what's happening but what's about to happen is eye-opening."
I've worked with many top London law firms and TURUNÇ is no different from any of them in terms of responsiveness, business acumen and the quality of the advice.
"Esin Çamlıbel is the embodiment of perfect combination of business and academia."
"Esin Çamlıbel is the most knowledgeable lawyer I have ever worked with."
They have unrivalled expertise in cross-border implications thanks to their commercial intelligence and international background.
"Kerem Turunç is truly an exceptional individual. He is unrivalled with his commercial understanding, legal know-how and international background."
"Kerem Turunç knows European and Turkish rules and regulations like the back of his hand."
"Kerem Turunç is a highly experienced and knowledgeable operator."
TURUNÇ team perfectly understands client needs and develop tailor-made solutions.
"İltem Dokurlar: a problem solver."
"Gizem Günel is thorough and technical. She is very client-focused, professional and a great communicator."
Super responsive and capable team.
"Naz Esen: Exceptional experience, analytical outlook on matters, concise approach."
"Beste Yıldızili Ergül is a great advisor for trademark and GDPR questions."
They are solution-oriented, remain calm, handle the other side with poise, and are always looking out for our best interests.
Their work is incredible technical and complex, yet their communication is always straight-forward and solutions, sharp.